Sony ACID Music Studio 7a build 157
If you're serious about making your own music, ACID Music Studio software is the perfect tool for original song creation, multitrack audio and MIDI recording, and studio-quality mixing, and effects processing. Share your songs any way you want -- burn your own CDs, upload to the web, prepare audio for podcasts, or export to your MP3 player. With built-in tutorials to guide you, you'll be composing, mixing, and mastering like a pro in no time.
Download:
You must register before you can view this text.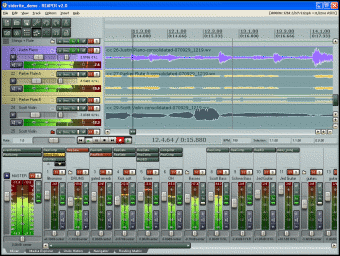 REAPER is a powerful but sensible Windows application that lets you record, arrange, edit, and render multi-track waveform audio. It provides an extensive set of features, but is a very small and lightweight application (the installer is less than 1 megabyte, and includes many effects and a sample project).
REAPER supports ASIO, Kernel Streaming, WaveOut, and DirectSound for playback and recording. It reads WAV, OGG, and MP3 files, and records WAV files. You can arrange any number of items in any number of tracks and use audio processing plug-ins (DirectX and Jesusonic). REAPER also supports volume, pan controls and envelopes per track, multi-layer undo/redo, and user creatable color themes.
Basic features:
- Portable - supports running from USB keys or other removable media
- 64 bit audio engine
- Excellent low-latency performance
- Multiprocessor capable
- Direct multi-track recording to many formats including WAV/BWF/W64, AIFF, WavPack, FLAC, OGG, and MIDI.
- Extremely flexible routing
- Fast, tool-less editing
- Supports a wide range of hardware (nearly any audio interface, outboard hardware, many control surfaces)
- Support for VST, VSTi, DX, DXi effects
- ReaPlugs: high quality 64 bit effect suite
- Tightly coded - installer is just over 2MB
Editing features:
- Tool-less mouse interface -- spend less time clicking
- Drag and drop files to instantly import them into a project
- Support for mixing any combination of file type/samplerate/bit depth on each track
- Easily split, move, and resize items
- Each item has easily manipulated fades and volume
- Tab to transient support
- Configurable and editable automatic crossfading of overlapping items
- Per-item pitch shift and time stretch
- Arbitrary item grouping
- Markers and envelopes can be moved in logical sync with editing operations
- Ripple editing - moving/deletion of items can optionally affect later items
- Multiple tempos and time signatures per project
- Ability to define and edit project via regions
- Automation envelopes
* better pencil mode positioning/sizing in FIPM
* reduced audio drop outs when inserting FX chains and/or pasting FX
* fixed shift+click for time/loop selection in empty spaces
* optimized main edit view drawing
* reduced excess main edit view tooltips
* solo in place now defaults to on
* wav/aiff/wv/mp3/ogg: better peak updating on media change
* VST: better compatibility with Korg Legacy and MDE-X
* VST: faster loading of most Steinberg plug-ins
* VST: better loading of Albino 3, Groove Agent 2, etc
* VST: loading presets now updates generic UI, forces refresh of plug-in UIs
* VST: presets for plug-ins shell VSTs are now stored in separate namespaces
* improved ReaVerb accuracy on long impulses
* fixed a bug when moving/copying regions and certain items positioned would not get moved
Download:
You must register before you can view this text.
TRAKTOR is a versatile and comprehensive digital DJing solution designed to meet the most professional of standards. The third generation of this award-winning software offers breath-taking sound quality coupled with an unprecedented array of new features – sure to get any party rocking. Discover the potential of TRAKTOR 3 and blend a new dimension of creativity into your mix.
TRAKTOR 3 has four fully-featured playback decks: Drop in additional loops and samples, or mix four tracks at once. The integrated 4-channel club mixer is highly flexible, allowing effects to be inserted on each channel individually. External turntables, CD-players and hardware effects can be patched seamlessly into the setup - the possibilities of this virtual DJ platform are endless.
TRAKTOR 3 also boasts direct integrated access to the Beatport Online Music Store, allowing you to browse their extensive catalogue, pre-listen and buy hot new tracks and download them directly into your library - and all this is possible from within the TRAKTOR 3 browser.
The prestigious Xone:92™ club mixer has been perfectly emulated with the support of Allen & Heath. Its excellent 4-band EQ gives incredible depth to your mix. The cross-fader assignable filters offer unique and innovative frequency-based mixing possibilities, bringing a completely new feel to your sets. Five professional tempo-synched effects and four high-end EQ's all give your sound a distinctive flavor.
The user interface works on a completely flexible and dynamic principle. Toggle individual control groups on and off, arrange secondary functions and displays for an optimum use of space. The new Messages Window automatically displays short explanations for the active function. Whatever the situation, TRAKTOR 3 always lets you know exactly what is happening, so you can concentrate on the mix.
Traktor 3 offers outstanding tools to make DJ mixing easier and more powerful than ever:
- Displays: The tracks are graphically shown as waveform displaying the sound in two frequency bands for visual control of beats, breaks and instrumentation. The waveform can be stopped and accurately cued like a record.
- Tempo detection: TRAKTOR's tempo detection uses complex algorithms for reliable beat alignment of two tracks on the fly. Tempo reading for complex beats can be improved by additional user tapping.
- Precise cue-points and loops: Up to ten available cue-points and loops per track open new dimensions for live remixing. Cue points can be beat-quantized, loops can be set accurately on the bar, resized, moved, all without losing the groove.
- Filters and Equalizers: High-end filters and equalizers radically transform the sound of the tracks.
Many more features.
TRAKTOR Features:
** Decks
- 4 fully-featured playback decks available including an optional 2 deck mode
- 6 Hot Cues & 6 Beat Jump buttons per track
- Independent editing of loop start & loop end
- Extended control panels for looping and cueing functions
- Improved tempo editing and Beat Grid editing panels
** Mixer
- Perfectly emulated Allen&Heath Xone:92™ 4-channel club mixer, including its adjustable cross-fader curve, cross-fader assignable filters, high-end EQs and 'Cue logic' toggling automatically between decks
- Each channel assignable to crossfader
- 1 insert effect per channel & 1 master effect
- Internal effects usable in combination with external DJ Mixer
- Recording of TRAKTOR master signal or of any of the soundcard inputs
- Exchangeable EQ section featuring additional outstanding emulations of the Ecler Nuo4™ and an industry-standard club mixer
- Optional live audio input on each channel
- Post and pre-EQ monitoring
- Pre-listening of effects on each channel & master
- Individually controllable and limited master, monitor, booth and recording outputs
** Effects
- Professional tempo-synced effects created by NI's leading sound designers:
- Delay featuring: Time, Freeze, Centre, Width
- Reverb featuring: Mutable Input, Modulation, Impulse
- Flanger featuring: Speed, Centre, Depth, Impulse
- Beatmasher Inverter to radically edit beats
- LFO assignable filters
** Beatport Integration
- Integrated access to Beatport.com from within the TRAKTOR browser
- Pre-listening Beatport content with TRAKTOR's internal Preview Player
- Download manager for multiple downloads
- Access to all other Beatport functions via integrated web browser functionality
and much more........
Download:
You must register before you can view this text.
The Sound Forge 9 professional digital audio production suite includes everything you need to quickly get from raw audio to finished master. Use this suite to create and edit stereo and multichannel audio files with speed and precision. Efficiently analyze, record and edit audio, digitize and restore old recordings, model acoustic environments, design sound for multimedia, and master replication-ready CDs.
Includes Tools for Sound Design and Mastering
In addition to Sound Forge 9 software, this comprehensive audio production suite includes CD Architect 5 software for designing, mastering and burning Red Book audio CDs, Noise Reduction 2 plug-ins to fix common audio problems such as tape hiss, camera hum, clicks, and pops, and the Mastering Effects Bundle powered by iZotope™, a collection of four professional audio plug-ins...
Stereo and Multichannel Recording
Sound Forge 9 software has a complete set of tools for recording audio. Record straight into your sound card or use the Record Timer to begin and end a session at a specific time and date. Alternatively, you can start recording when a certain audio threshold is reached with Threshold Record Triggering. You can also now record and edit multichannel audio files as easily as stereo files.
Precise Audio Editing
Edit stereo and native multichannel audio files down to the sample level in real time. Use familiar Windows commands to cut, copy, paste, mix, and crossfade audio. Drag and drop to edit between channels, and work on one file while processing others in the background.
Pristine Sound Quality
Sound Forge software supports full resolution 24-bit and 32-bit/64-bit float 192 kHz files for the ultimate in audio fidelity. Capture the subtle overtones and nuances of instruments, vocals, and effect changes.
Powerful Effects Processing
Apply over 40 professional studio effects and processes including Normalize, EQ, Delay, Chorus, Volume, Dynamics, Noise Gate, Pitch Shift, Flange, and Vibrato. Chain multiple effects together and apply them to selections or entire files using the Plug-in Chainer. Sound Forge 9 software also supports DirectX and VST effects, including parameter automation, to expand the number of effects you can apply to audio and increase your mastering flexibility.
Audio-for-Video
Sound Forge 9 software supports multiple video formats including AVI, WMV, and MPEG-1 and MPEG-2. Synchronize audio and video frame by frame. Import Flash (SWF) files* to visually synchronize your audio to your project. Sound Forge 9 software includes MPEG-2 templates for writing HDV-compliant files at both 720p and 1080i resolutions. Also included are templates for encoding WMV 720p and 1080p.
Notable fixes/changes in version 9.0e
Fixed a bug that could cause the Wave Hammer and Acoustic Mirror plug-ins to revert to Demo mode.
Fixed a bug that caused the Cut and Copy toolbar buttons to be unavailable after making a selection.
Fixed a bug that caused the Loop Tuner window to ignore vertical zooming and panning in the data window.
Notable fixes/changes in version 9.0d
The Loop Tuner window has been reimplemented an independent tool window.
Added support for LPEC files imported from Digital Voice Editor software.
Added support for WAV files up to 4 GB. Select the Allow Wave renders up to 4 GB check box on the General page of the Preferences dialog to enable support.
Several Mix/Replace improvements have been implemented:
Envelopes are now drawn when performing drag-and-drop mixes to indicate mix and fade-in and fade-out levels.
If a selection exists in your destination data window, the selection is now preserved after mixing sound data.
Markers are now added at the correct positions when you perform mixes with Options > Paste Events turned on.
The end of the file is now used as a snap point when performing drag-and-drop mixes.
A new setting has been added to the Editing tab in the Preferences dialog. Select the Auto-crossfade Mix with selection check box if you want the Fade In and Fade Out settings for the Mix tool to pay attention to the destination selection and file length when mixing between files.
You can now hold Ctrl while dragging in a data window to switch to the Magnify tool temporarily (as in Sound Forge 8.0). Select the Allow Ctrl+drag style zoom in data windows check box on the General tab of the Preferences dialog to enable this behavior.
Toggling a selection (using the S or key) now restores channel selection.
The Lock Loop/Region Length command is now honored when multiple markers or regions are selected.
A bug has been fixed that could cause black frames/silence when overwriting an open MPEG file.
A bug has been fixed that could cause gapping when playing from the Plug-in Chainer and positioning the cursor if Options > Seek Cursor on Playback was not selected.
When selecting up to a marker that occurs on the last sample of a file, the last sample is now included in the selection.
Download:
You must register before you can view this text.

Fruity Loops Studio 7
FL Studio is a fully featured, open-architecture music creation and production environment for PC. No extra software is required* to produce any style of music, as the complete set of instrument and studio tools is included in the cost of the package. With the included plugins, sounds and tools the user can create complete songs, as well as backing tracks, loops and sizzling beats. Completed songs can be saved to WAV, MP3 or MIDI or .ZIP or native project formats (.FLP).
FL Studio 7 Making a Beat
Download:
You must register before you can view this text.
Last edited by G-Reimer on Mon Mar 10, 2008 12:48 am; edited 1 time in total
Super Moderator





Posts

: 17


Join date

: 2008-03-06



Ultra Mixer 2.2
Download:
You must register before you can view this text.
Super Moderator





Posts

: 17


Join date

: 2008-03-06




---
Permissions in this forum:
You
cannot
reply to topics in this forum